Proposed Andhra Pradesh State Reorganization
---
The central cabinet of India has proposed to reorganize the state into Telangana and AndhraPradesh.
Source: wikipedia
Districts and Population
Andhra Pradesh abbreviated A.P., is one of the 28 states of India, situated on the country's southeastern coast. It is India's fourth largest state by area and fifth largest by population with a density of 310/sqkm. Its capital and largest city is Hyderabad.
Andhra Pradesh is an Indian state.It came into existence due to the States Reorganization Act of 1956 which merged Telugu-Speaking areas of Hyderabad State with the already existing Andhra State.
Andhra Pradesh is divided into four regions - Hyderabad, Telangana, Rayalaseema, Coastal Andhra.
Hyderabad

Telangana consists of the 10 districts of Adilabad, Khammam, Karimnagar, Mahbubnagar, Medak, Nalgonda, Nizamabad, Rangareddy, Warangal and Hyderabad.

Rayalaseema comprises the 4 districts of Kurnool, Chittoor, Kadapa and Anantapur.

Coastal Andhra comprises the 9 districts of Srikakulam, Vizianagaram, Visakhapatnam, East Godavari, West Godavari, Krishna, Guntur, Prakasam and Nellore.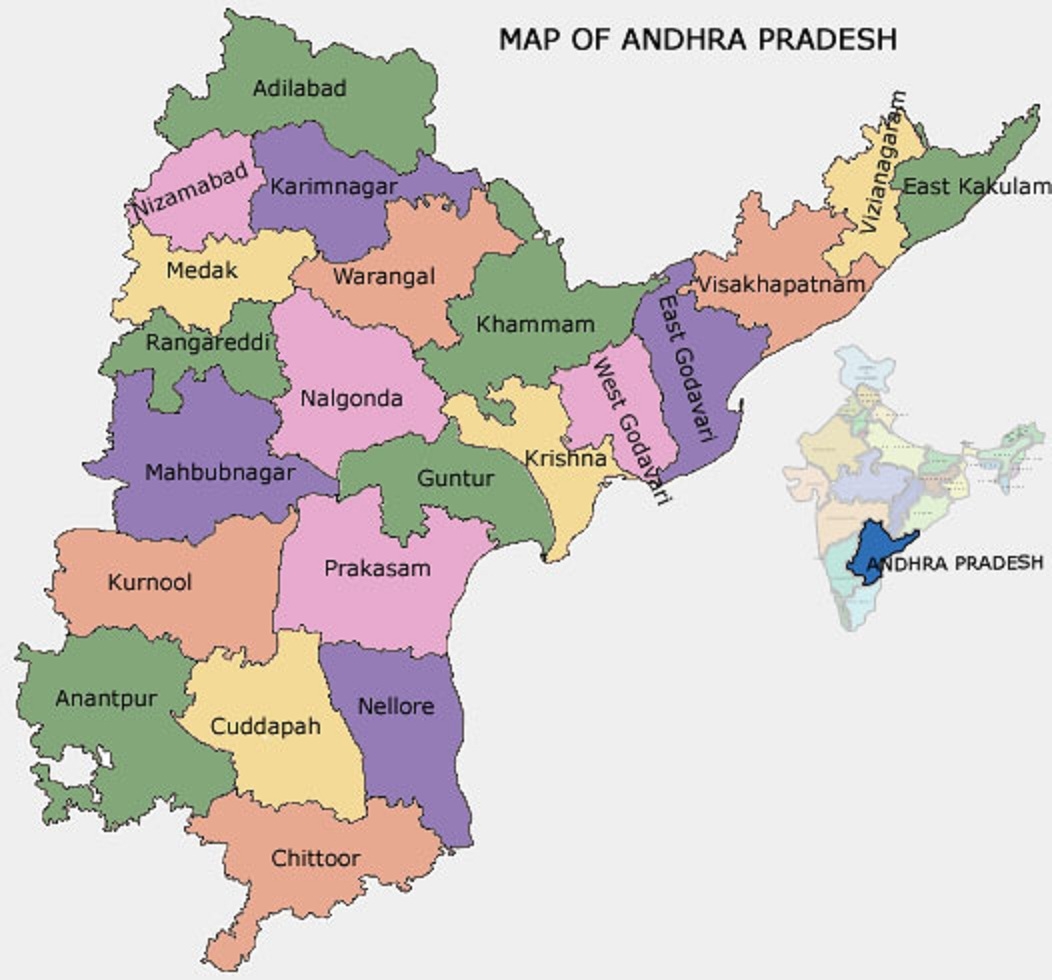 Source: wikipedia
Energy and Power Supply
Andhra Pradesh Power Generation Corporation Limited is one of the pivotal organizations of Andhra Pradesh, engaged in the business of Power generation. Apart from operation & Maintenance of the power plants it has undertaken the execution of the ongoing & new power projects scheduled under capacity addition programme and is taking up renovation & modernization works of the old power stations. APGENCO came into existence on 28.12.1998 and commenced operations from 01.02.1999. This was a sequel to Government's reforms in Power Sector to unbundle the activities relating to Generation, Transmission and Distribution of Power. All the Generating Stations owned by erstwhile APSEB were transferred to the control of APGENCO.
The installed capacity of APGENCO as on July 31, 2012 is 8924.9 MW comprising 5092.5 MW Thermal, 3829.4 MW Hydro and 2 MW Wind power and 1 MW Solar power stations, and contributes about half the total Energy Requirement of Andhra Pradesh. APGENCO is third largest power generating utilitiy in the Country next to NTPC and Maharashtra. It's installed Hydro capacity of 3703.4 MW is the second highest among the Country.
APGENCO has an equity base of Rs.2107 crores with 11,000 dedicated employees as on 30.06.2009. The company has an asset base of approximately Rs.20100 crores.